In partnership with the fantastic development house Steadfast Collective, Lobo collaborated with Enclave, a luxury build-to-rent company, to revitalise their online presence with a sophisticated real estate web design that accurately represents their premium brand.
Lobo focused on a luxurious user interface and enhanced user experience, and Steadfast worked to seamless integrate with marketing and lead generation tools, and Realpage PMS. Together we successfully elevated Enclave's market positioning and influencing a significant increase in site-wide conversions.

The Problem
Enclave's initial website failed to effectively convey the luxury and expanse of their luxury rental properties, resulting in a subpar user experience for potential clients exploring their offerings. The outdated design, difficult navigation, and lack of mobile optimisation hindered customer engagement, while insufficient integration with marketing and lead generation tools limited their ability to grow and attract new clients.
The Solution
Our team conducted a thorough analysis of Enclave's target audience, brand identity, and luxury rental market to identify areas for improvement. We then devised a comprehensive website redesign strategy, focusing on three main components: a luxurious user interface, enhanced user experience, and scalability of the site as new sites opened in the future.
Luxurious User Interface—
Our designers crafted a visually captivating interface that aligned with Enclave's upscale brand image. By employing sophisticated typography, clean lines, and an elegant colour palette, we conveyed a sense of refinement and luxury. High-quality images and videos showcasing the properties and their amenities were strategically integrated throughout the website, immersing visitors in the lavish lifestyle offered by Enclave.
Improved User Experience—
To ensure a seamless browsing experience, we restructured the website's architecture and applied UX best practices and path to purchase flows. The team organised content into intuitive taxonomies, allowing users to easily locate the information they needed. User-friendly navigation menus, clear calls-to-action, and responsive we designs were implemented to guarantee a consistent experience across devices. The property search feature was enhanced with filters and an interactive map, enabling users to effortlessly discover their ideal rental.
Scalability—
Each location promoted it's own sub brand style to give each building it's own personality. By getting to know each area of the properties we were able to align the design and experience of the different locations to the expected and desired target audiences whilst keeping a consistent and intuitive website architecture.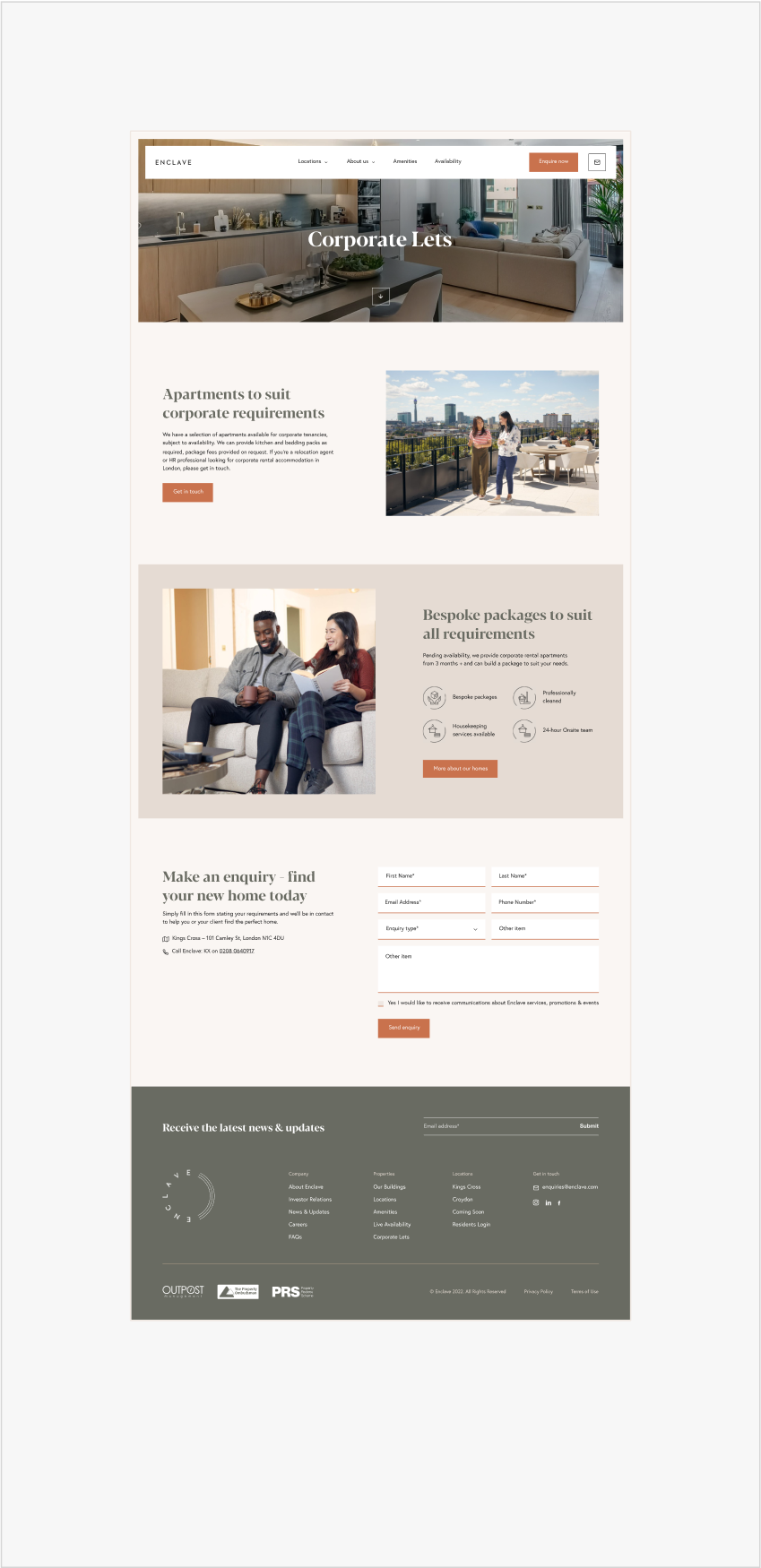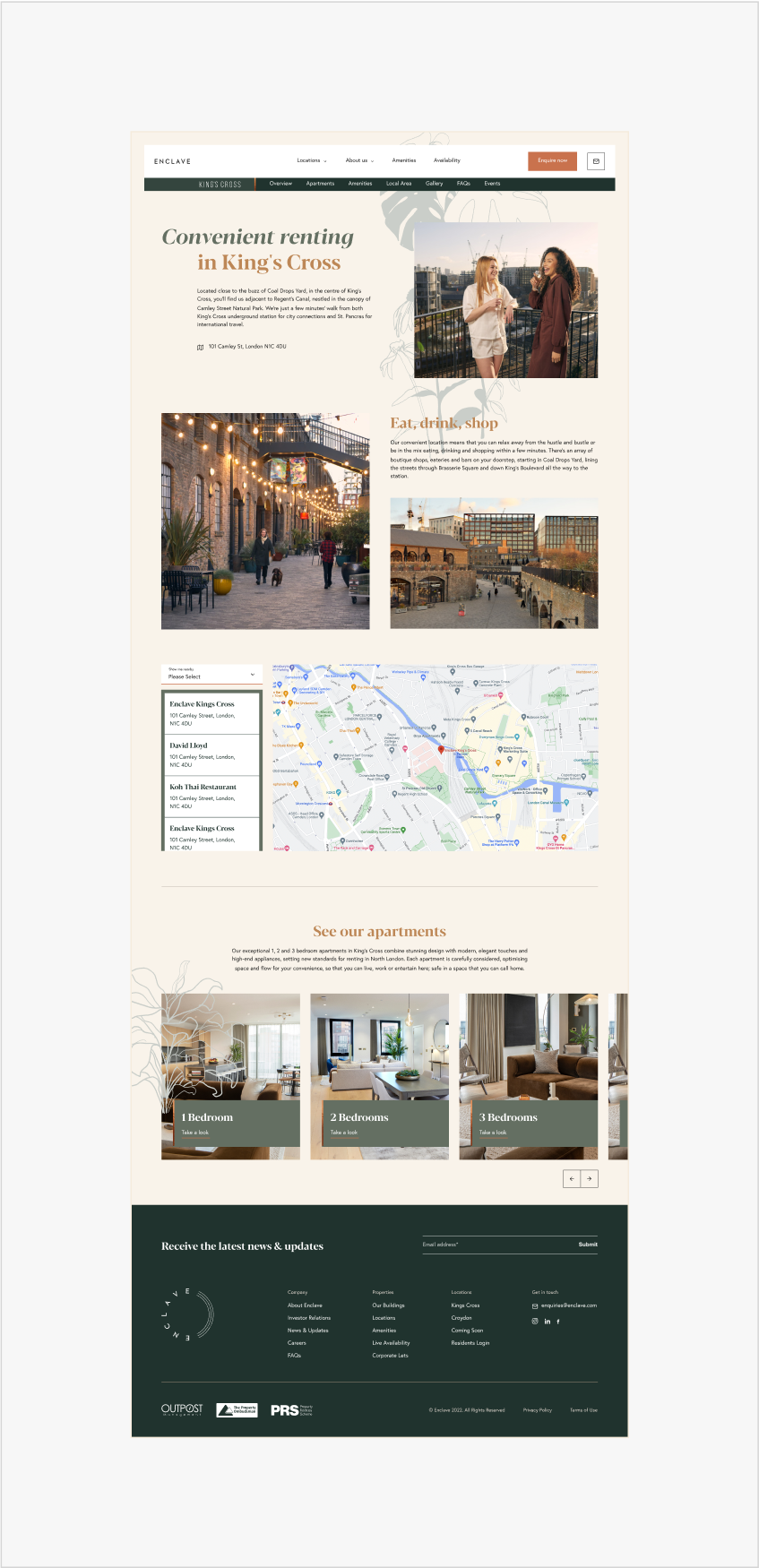 "We had the pleasure of working with Lobo on the design of our new build-to-rent (real estate) portfolio website. The process was smooth, well-structured and we felt confident that the team 'got' our brand and objectives from the start. They helped steer the digital application of our brand vision, carefully considered the user journey, interrogated competitor sites and challenged us where required, to produce a product that's best-in-class. We're delighted with the end result – thank you!"
Hannah Miller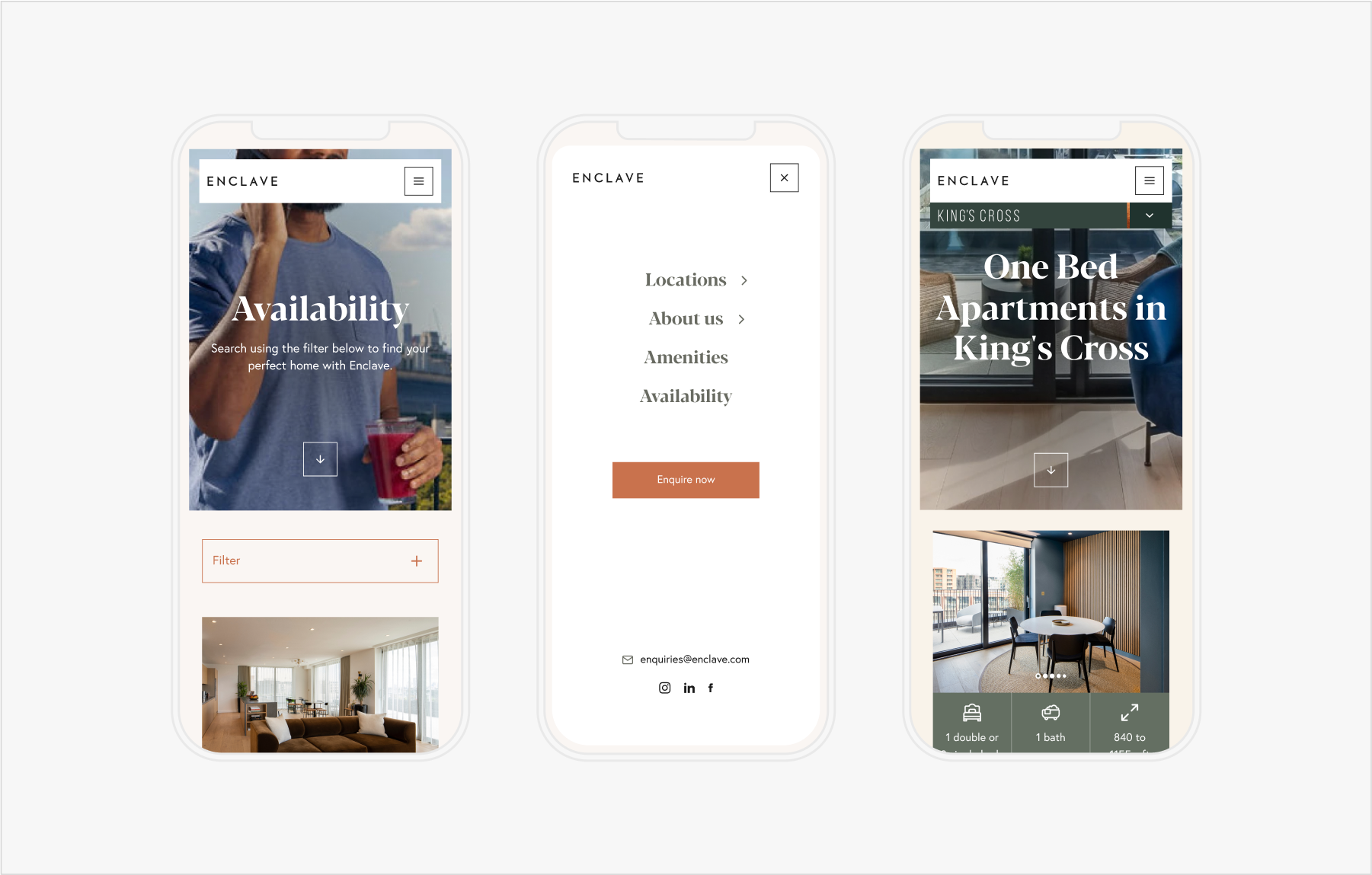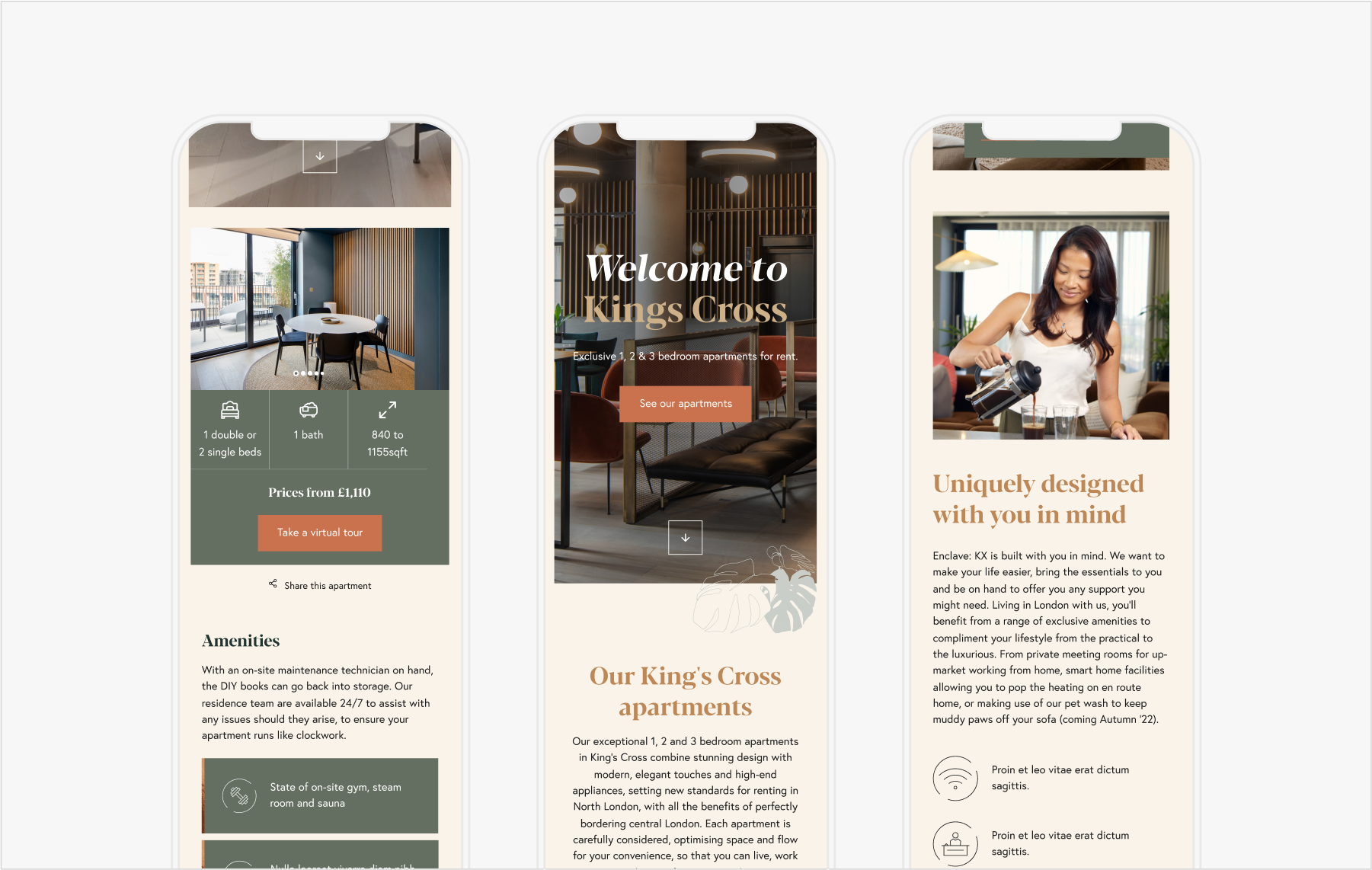 The Impact
Our extensive redesign of Enclave's website had a profound effect on their market positioning and overall performance. The luxurious interface and improved user experience led to a notable increase in engagement and conversions.
Commercial Impact—
Enclave's revamped website has received positive feedback from users, resulting in a 3.2% conversion rate and continuing growth. The sophisticated, industry-leading design has attracted more potential clients, leading to higher occupancy rates for their properties.
Visibility and Market Positioning—
The redesigned website has elevated Enclave's standing within the luxury rental market. Their polished online presence and seamless user experience have solidified their reputation as a premier provider of high-end rentals.
Analytics and Future Growth—
The integration of analytics tools has enabled Enclave to monitor their website's performance, offering valuable data to inform future marketing strategies and website optimisations. This data-driven approach ensures that Enclave can continue to adapt and flourish in the ever-changing luxury rental market.
Customer Satisfaction—
The website's improved user experience has contributed to increased customer satisfaction, with potential renters finding the information they need more easily and efficiently. The streamlined navigation and property search functionality have simplified the process for users to find their perfect rental, resulting in higher customer engagement rates and positive feedback from Enclave's clientele.
Sustainable Growth—
The new website is designed to accommodate Enclave's expanding portfolio, with the capacity to house and lease up to ten assets and potentially 1,000 apartments in each. This scalability ensures that the website will remain a valuable asset for Enclave as they continue to grow and expand their business across Europe.
In conclusion, our real estate web design transformed Enclave's online presence, accurately reflecting their luxurious brand identity while enhancing the user experience. By implementing a visually stunning interface, optimising the user experience, and seamlessly integrating marketing and lead generation tools, we helped Enclave elevate their market position and significantly increase site-wide conversions. This successful partnership demonstrates the power of exceptional website design and the impact it can have on a business's overall performance and growth.