Feathr is a luxury wallpaper company with its HQ in Helsinki. It came to Lobo because it wanted to upgrade its online presence, and to improve customers' buying journey. Lobo transformed the way the brand spoke to its market.
We created a stronger, more flexible CMS and completely redesigned their main pages, rendering them far more attractive and elegant.
Feathr was also able to use the new functionality to introduce and market new products more effectively thanks to the back-end revision that moved its online store to WooCommerce.
Within a year, the new website doubled the brand's online sales and saw the number of users grow by 105%. Lobo's latest updates in 2022 have seen the site score highly for carbon efficiency, which aligns with Feathr's aim to operate in a more sustainable manner.

Problem
Feathr is a luxury wallpaper company based in Helsinki. Its website was built on an outdated e-commerce platform, which was hindering the brand's progress.
Because of the sub-standard user experience on its site, the brand's profile and perception were relatively low.
Feathr recognised the need to upgrade the e-commerce elements of its site, and to create a more interactive experience for users. It required a stronger, more malleable CMS to complement an enhanced e-commerce experience.
Solution
By introducing a new, modern website editing process, we enabled Feathr to work on a block-built approach within the site. This transformed the experience of making changes to the site, as it became easier and quicker to update and iterate content.
The new approach gave Feathr the ability to introduce more flexibility around its products. It enabled the company to control currency conversions more swiftly, and to update product samples far more rapidly.
And that's not all; the back-end revision was complemented by a redesign of the principal pages to render them far more attractive and elegant. This process breathed new life into the entire brand, strongly re-establishing it in the interiors market.



"The team at Lobo have been excellent at supporting our growth in the interiors market. Their skill has helped us create a website that more than doubled our sales and increased our perceived brand strength in the market."
Tom Puukko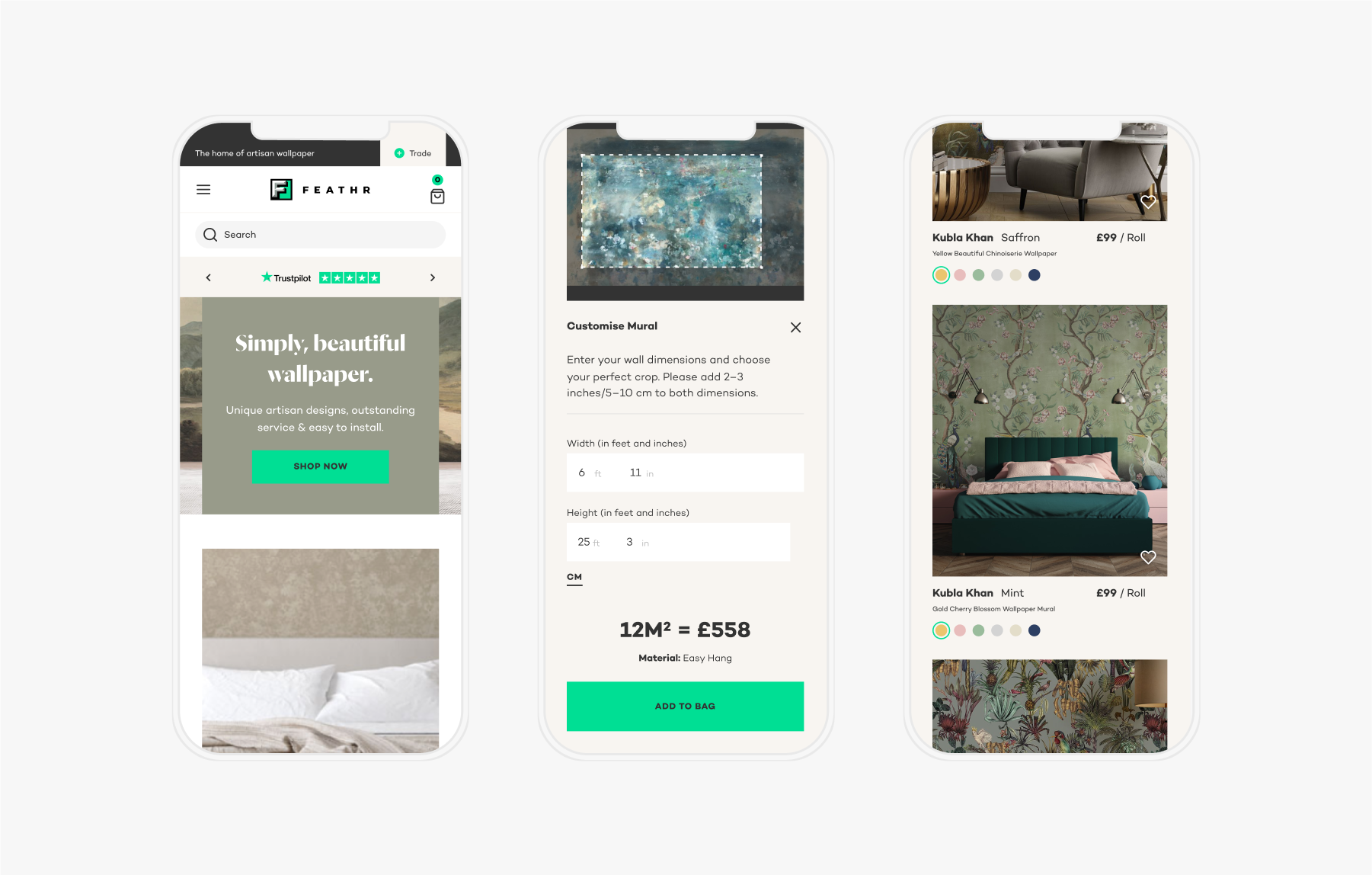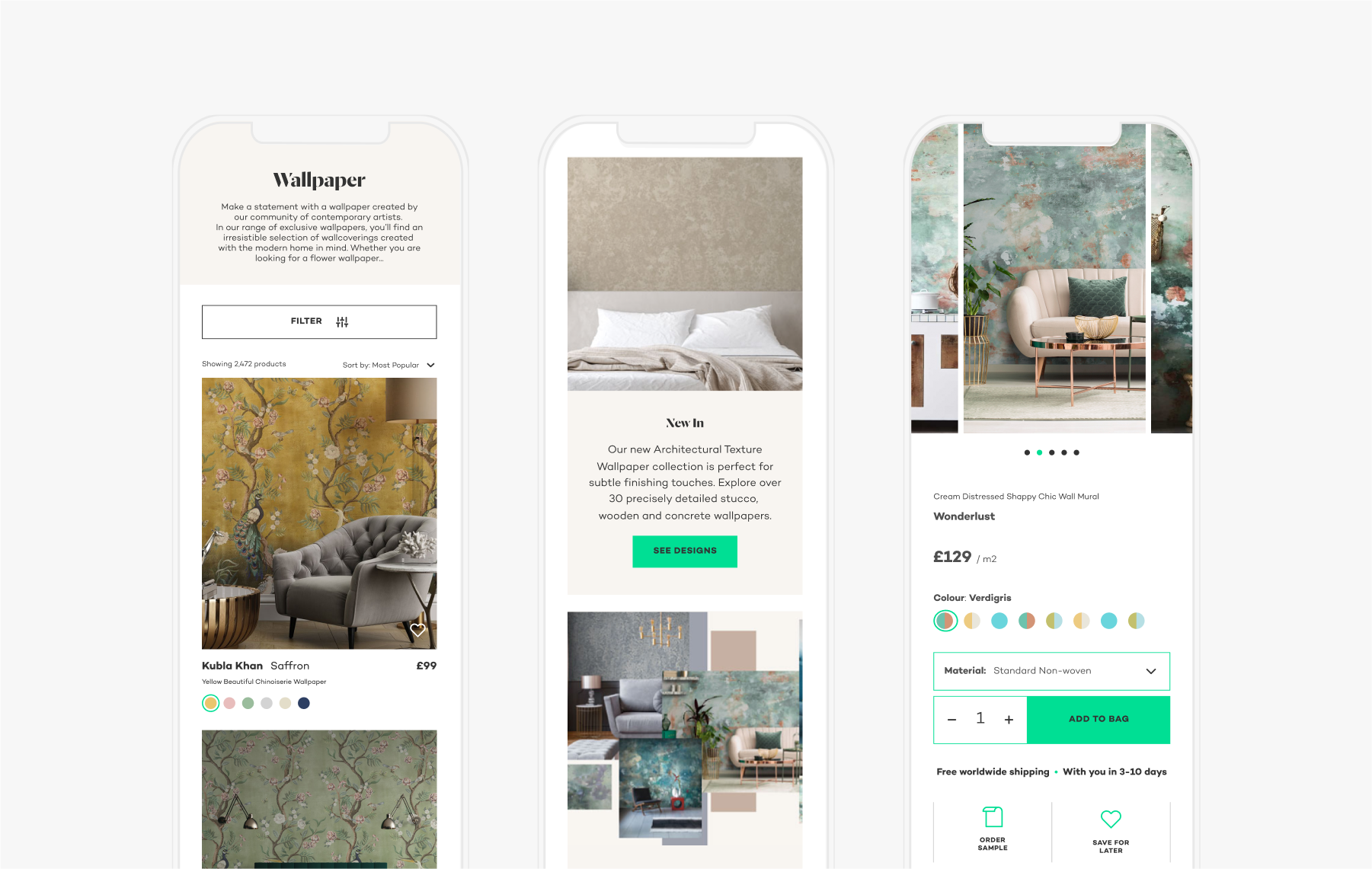 Impact
Commercial —
A more efficient CMS enabled customers to interact much more swiftly and smoothly with the brand. As a direct result, Feathr's online sales and conversions doubled as average value per site user increased from €1 to €2 within 12 months.
Since launch, the number of new users on the website has increased by 105%, the total of online sessions has risen by 103%, and conversions went up by 67%. Users can now move through the website far more easily to reach a positive buying decision.
Visibility —
The improved commercial performance was underpinned by the greater confidence customers could feel in the brand. This was driven by the design Lobo implemented, and in turn translated into increased conversions and an enhanced position in the market place.
Its re-designed website has enhanced the visibility of the brand, bringing Feathr to a far wider audience through direct marketing and SEO innovations. The smoother online journeys enjoyed by customers also led to increased referrals and greater recognition within the wall-covering industry.
Sustainability —
Feathr's legacy website was rated in the 67th percentile of dirtiest sites because of its high weighting images, overuse of Javascript and other development functions.
Its new site is in the 83rd percentile of cleanest websites. This aligns with initiatives within the company to drive more sustainable means of creating its products.
Previously, the site scored a lowly 38/100 on Google Lighthouse, which measures the efficiency of a website. Across all of its pages, the Feathr website now averages 92/100.
It is a pleasure to work with the team at Feathr and we're privileged to still work with them supporting, improving and caring for their website to help them reach their business goals.